"Where the past lives in the heartland of Texas"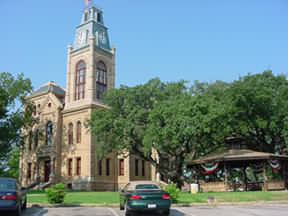 Llano County Court House
on the Square in Llano
A visit to Llano is an historical event. The preservation of the past is a priority in Llano and many of the older buildings have been restored or are in the process of being restored. Llano was founded in 1855 and buildings from the 1800s still remain in the city.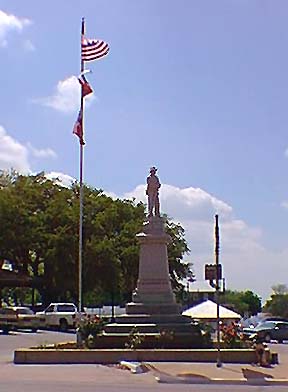 Statues at the Court House

Llano is located on the Llano River about 20 miles west of Lake Buchanan on Highway 29 and 70 miles northwest of Austin on Highway 71. It is the County Seat for Llano County and has a shopping square around the historic Courthouse in the center of town. It has a population of 3,500.

Llano River Dam and Bridge in Llano
Llano county is "The Deer Capital of Texas" and the deer hunters pour into the town during November and December of each year. You will see plenty of deer in Llano County.

There are antique and other shops, an art gallery and nice Bed & Breakfast Inns for the tourists. You will enjoy the Texas country atmosphere in this relaxing little city. You will also find the people very friendly and fun to visit with.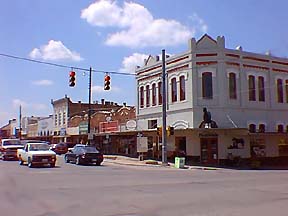 Historical Buildings on the Square
There are many things of interest in the Llano area including: a walking tour of the town to see all of the historical buildings, fishing, hunting, hiking, climbing, rock hunting, bird watching, shopping, golfing at their 18 hole course, boating at the local lakes, driving around the area to see the beautiful scenery, and visiting the local wineries.
| | |
| --- | --- |
| Llano County Museum | Hill Country Wildlife Museum |
The Llano County Museum is located at the northeast end of the Llano River Bridge on Highway 16 in the historical Bruhl Drugstore Building. Admission is on a donation basis.

The Hill Country Wildlife Museum is located on the north end of the square across from the courthouse in downtown Llano.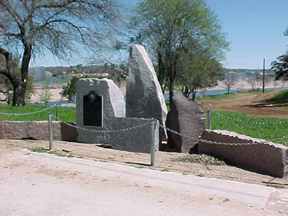 Leonard Grenwelge County Park
Lake Buchanan and Inks Lake are just a 20 minute drive from Llano on Highway 29 east. There are services available on Lake Buchanan such as cabins for rent, RV parks, etc. It is a very pretty drive to the lakes.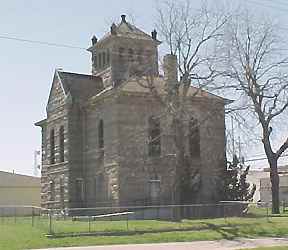 The Old Jail House
You will want to visit Enchanted Rock State Natural Area while in Llano. It is 14 miles south on Highway 16 and 8 miles west on R.R. 965. This beautiful, massive dome of Pink Granite is not only an impressive sight to see, but it is also fun to climb. The views from the top of the rock's summit are panoramic. Indian lore surrounds the rock and led to its name in the 1800's. They have 8.4 miles of hiking trails, picnic tables and grills, walk-in camp sites (no RVs) with water only. They also have a State Park Store with unique gifts, books, etc. For reservations call 512-389-8900. For information only call 800-792-1112. Their Web Site is: http://www.tpwd.state.tx.us
Lone Star R & R - Park Model RVs
These luxurious Park Models can be used for lake houses, hunting cabins, guest houses, retirement living, Winter Texan homes, rental income and more.
Events | Lodging

Links to neighboring towns' web pages: Burnet, Kingsland, Marble Falls

Touring Texas Home Page

Need a web page?
Web Page Design and Hosting

Want to have your web page listed on this web site?
Email us at: info@texastouristtowns.com